KORBOX ULTRA is first in Poland IPTV STB, which supports UHD Resolution (also known as 4K). Compact design hides incredible power, driven by a quad-core processor, allowing a quicker response to the task set for it by the user. KORBOX ULTRA is a modern solution for anyone with a digital quality television. KORBOX ULTRA is the perfect answer to the needs of lovers of good movies. Outstanding quality of image will take you to unimaginable world of UHD content.
KORBOX ULTRA has a Wi-Fi router integrated inside, so that you are allowed not only to use the wireless network at home, but also control KORBOX by KORPILOT app (available on Google Play). In addition, when you connect a wireless keyboard or mouse you can use KORBOX to surf on the Internet or to play games. Included RC, with large comfortable keys, simplifies operation, not only because of the comfortable fit in the hand but also thanks to the button that activates the mouse mode (controlled by the cursor.)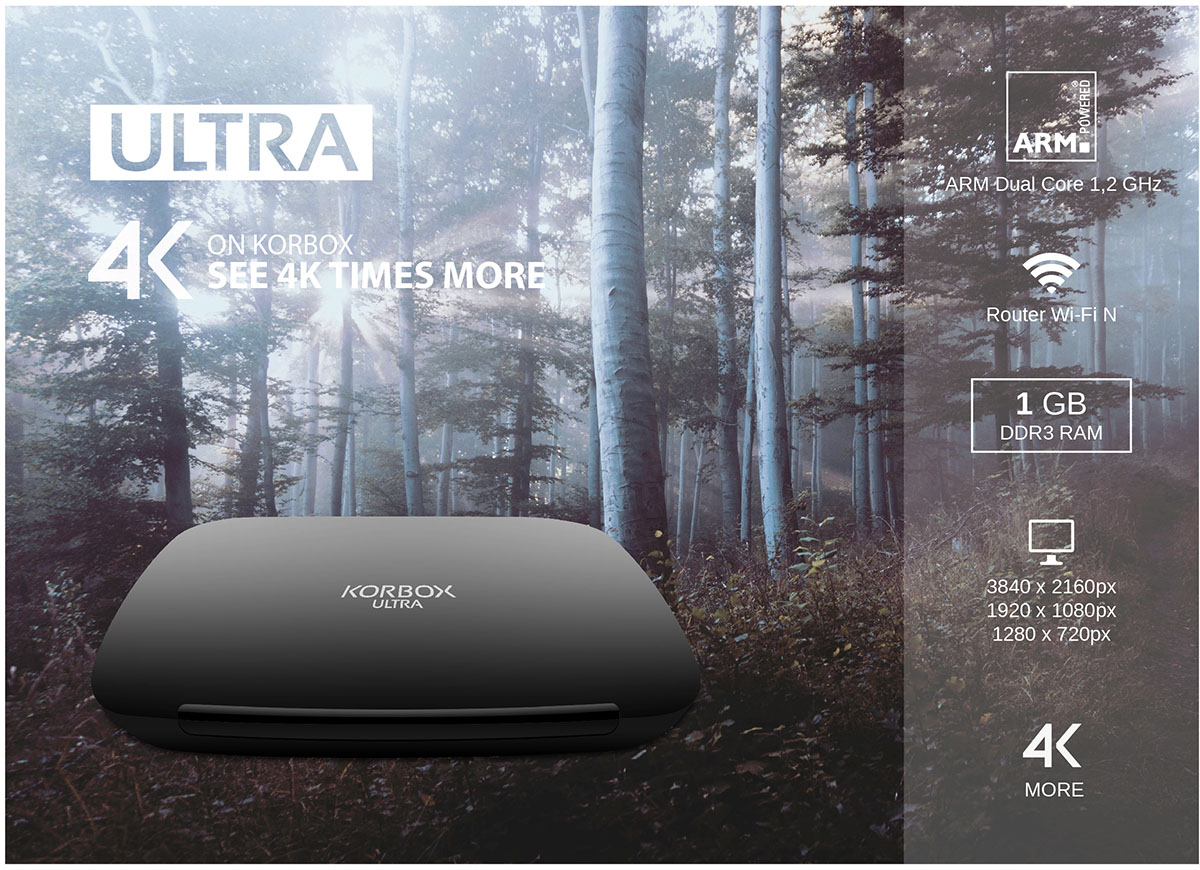 Functionality and features:
IPTV in resolutions up to 4K;
Ability to authorize PPPoE
Media player – browse media files stored on a portable device, USB flash drive;
Web browser;
Google News;
Youtube;
The possibility of receiving more than 80 thematic radio stations using the application TubaFM and access to a huge records collection at no additional charge;
VOD;
Unicast and/or multicast mode;
Support for redundant sources of channels in the L3 mode;
portability (requires only Internet connectivity);
router WI-FI N;
ability to disable the decoder using the on / off switch located on the rear panel.


Tył urządzenia KORBOX ULTRA
Included:
USB charger with 5V power supply cable;
HDMI cable;
RC-TWIG (remote control)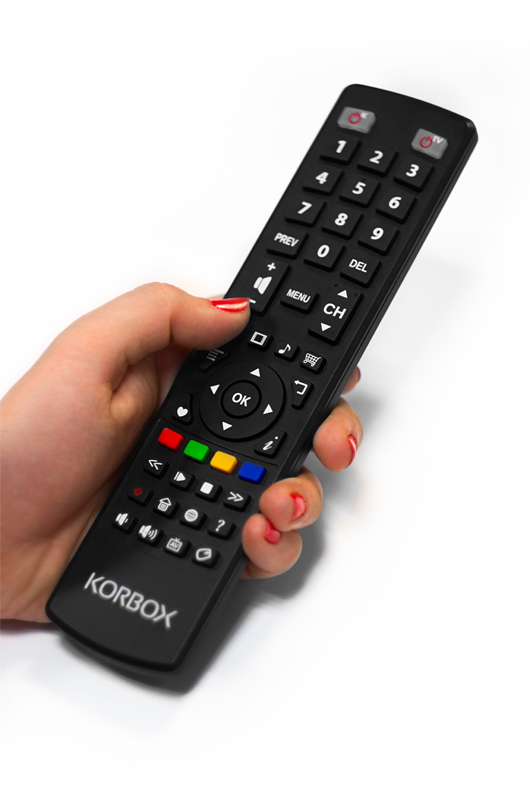 KORBOX ULTRA can be controlled in many ways. For each device we attach a programmable remote control RC-TWIG. The remote control has a large and comfortable keys that make use of television much easier. User can also program some of buttons in order to control two devices: TV and KORBOX.
Thanks to USB inputs, KORBOX ULTRA can be controled by the mouse and keyboard. This is ideal solution for people who like to watch videos on YouTube on the big screen. This solution also allows more comfortable playing games (e.g. Angry Birds). For real players it is allowed to connect the gamepad (e.g. for Sony Playstation)
For those who appreciate convenience and freedom we  created KORPILOT – app which allow to user controling KORBOX by… smartphone or tablet. Just connect your mobile device to a Wi-Fi network and be able to enjoy such opportunities as touchpad, gyroscopic mouse, keyboard and gamepad games available on the screen of your device!

DOKUMENTACJA:
Specyfikacja: KORBOX ULTRA – specyfication